Salaam out there and peace to you!
My mother and I (especially my mother) are very fond of trying out recipes from various cultures and cuisines. We share the feeling of boredom when sticking to a single culture, it's just so mundane!
And Alhamdulillah, we've been doing pretty well. :-)
The other day for iftaar, I made the traditional and popular Lebanese breakfast bread, manaish/manakish, and they were delicious, alhamdulillah!
Assalamualeikum derude og fred være med dig!
Min mor og jeg (især min mor) elsker at afprøve opskrifter fra diverse kulturer og køkkener. Vi synes simpelthen, at det er kedeligt, hvis vi kun holder os til retter fra en enkelt kultur.
Alhamdulillah, vi klarer det godt indtil videre. :-)
Forleden lavede jeg det traditionelle og populære libanesiske morgenmads brød, manakish/manaish, og de var virkelig lækre, alhamdulillah!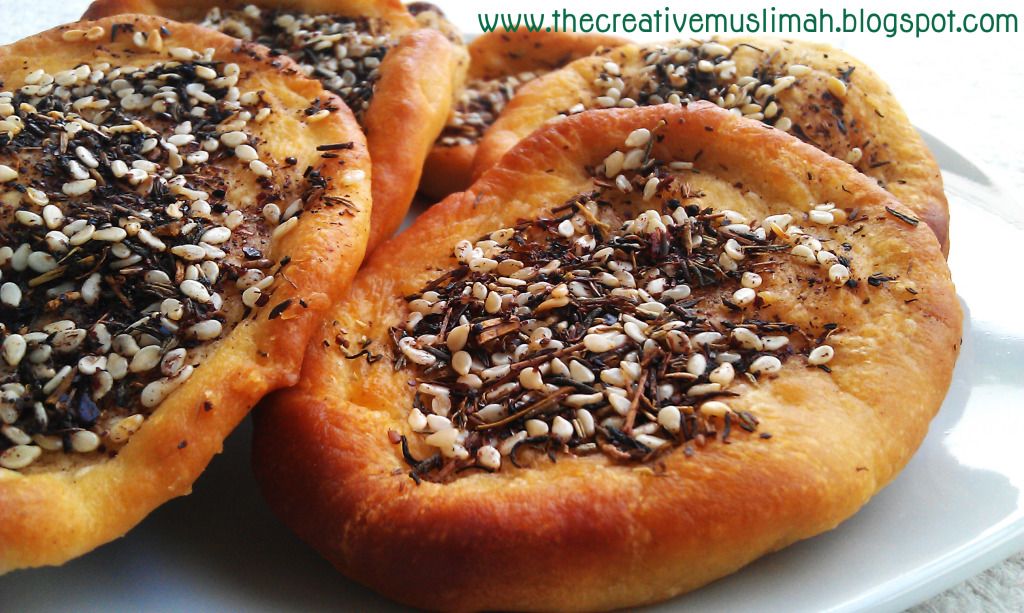 The credit goes to my lovely friend and sister in Islaam Lamies, who shared her lovely recipe for this
amazingly easy bread/snack! May Allah reward her greatly, ameen.
So here goes!
Men min dejlige veninde og søster i Islaam, Lamies, må tage æren for denne utrolig nemme opskrift, som hun så venligt delte med mig! Må Allah belønne hende utrolig meget, ameen.
Velbekomme!
Mini Manakish/Manaish (lebanese bread)


Små Manakish/Manaish (Libanesisk brød)
For the dough/

til dejen

:
- 2 tsp. salt
- 50 grams margerine/butter (I omitted this in my version, and added a bit more oliveoil)
- 1 tbsp. Virgin oliveoil
- 2 dl milk
-
¼
packet of yeast (in Denmark the packets are of 50 grams, so ¼ would be approx. 12.5 g)
- Approx. 400 grams flour
- 1 tsp. sugar
- 2 tsk salt
- 50 g margarine (Jeg valgte at erstatte dette med en smule mere olivenolie)
- 1 spsk. Jomfruolivenolie
- 2 dl mælk
- ¼ pk gær
- ca. 400 g mel
- 1 tsk sukker
For the topping/

Til fyldet:
- Approx. 1 cup of Za'taar (a spice mix which can be bought in Arabic grocery stores)
- Approx. 3/4 cup virgin oliveoil
I didn't have Za'taar at home, so I made my own version, which is exactly what the storebought one consists of anyway:
- 1/4 cup roasted/toasted sesame seeds
- 1/4 cup thyme
- 1/4 cup sumac (a spice mix which can be bought in Arabic grocery stores)
- Ca. 1 kop Za'taar (en krydderi mix, som kan købes i arabiske grønhandlere)
- Ca. 3/4 kop Jomfru olivenolie

Jeg havde ikke selv Za'taar derhjemme, så jeg lavede min egen version, som består af præcis de samme ingredienser som den købte:
- 1/4 kop ristede sesamfrø
- 1/4 kop timian
- 1/4 kop sumak (en krydderi mix, som kan købes i arabiske grønthandlere)
Now, heat the milk until it's lukewarm. Dissolve the yeast and sugar in it. Mix rest of the ingredients in to it, knead it well, and let it puff up for about an hour.
In the mean time, mix all the ingredients for the topping together in a bowl, until it becomes a watery paste, and set it aside.
When the dough has puffed up (which mine didn't really*,
ahem
), divide it into 3-4 balls, and start rolling them out on your worktop. Here you can decide if you want to make small cookie-like ones just like me, or bigger ones, which is traditional. Actually, they can be of any size you like!
What I did was roll out the dough until it was quite thin (I could see my worktop through it), and then use a cookie cutter or a glass to cut out small circles.
Place these on a baking tray with baking paper, whilst you continue to make as many circles as you can.
Poke the circles a few times with a fork in order for them not to puff up while in the oven.
Place approx. 1 tbsp. (more or less depending on the size of your circles) of the topping in the center of your circles, and spread it out about. Roll up the sides of the circles so that the filling doesn't spill in the oven.
Bake in the oven at 200 degrees Celsius (on fan-function) for approx. 12 minutes or until they are golden brown.
Eat them warm or enjoy them with soup! The small cookie-like manakish are nice and crispy!
*I don't think I dissolved the yeast in the milk properly, so it didn't raise much, but they still turned out as they should have, alhamdulillah!
Først skal du opvarme mælken indtil den er lun. Opløs gæren og sukkeret i mælken. Bland resten af ingredienserne til dejen i, og ælt dejen godt. Lad den hæve i ca. 1 time.
I mellemtiden kan du blande ingredienserne til fyldet sammen, indtil det bliver en vandagtig blanding, og sæt det så til side.
Når dejen er hævet skal den deles i 3-4 lige stykker. Rul disse kugler ud så tyndt som muligt, hvis du vil have småkageagtige brød som mine, eller lad dem forblive store, hvis du vil have større stykker brød; størrelsen er helt op til dig!
Jeg rullede dejen ud indtil jeg kunne se bordpladen igennem. Brug en rund udstikker eller et glas og udstik små cirkler af dejen. Sæt disse over på en bageplade med bagepapir på, mens du fortsætter med at gøre dette med resten af dejen.
Prik cirklerne med en gaffel således at de ikke puffer op, når de bages. Hæld ca. 1 spsk. (mere eller mindre, alt afhængigt af størrelsen på dine cirkler) af fyldet i midten af cirklerne, og spred det en smule ud. Bøj enderne af cirklerne en smule op, så fyldet ikke ryger ud.
Smid dem ind i ovnen ved 200 grader Celsius (varmluft) i ca. 12 minutter eller indtil de har fået en gyldenbrun farve.
Spis dem varme eller nyd dem med en dejlig suppe! De små småkageagtige manakish er dejlige og sprøde!
Yours sincerely,
The Creative Muslimah
Med venlig hilsen
The Creative Muslimah